Co-Supervisors

I currently co-supervise graduate students with the scientists listed below. Co-supervision enables partnerships and synergy between the university and other institutions.

Dr. ryan mckellar - royal saskatchewan museum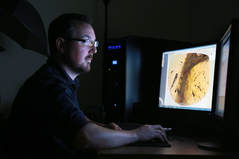 Dr. McKellar's research involves three different approaches to the study of amber—examining amber inclusions, the chemical signatures of resins and ambers, and the stable isotopic composition of amber. Together, these three aspects allow observation of palaeoforests and their inhabitants through time. Amber deposits in western Canada offer a particularly important glimpse of insect evolution in the Late Cretaceous, when many of the groups that characterize modern ecosystems were rising to a position of prominence.
ryan.mckellar(at)gov.ca
https://royalsaskmuseum.ca/rsm/research/palaeontology/ryan-mckellar
Image: Dr. McKellar examines a magnified view of amber containing inclusions.
---
dr. ryan fisher - saskatchewan ministry of environment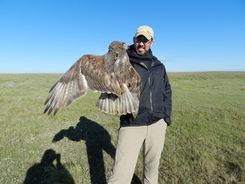 Dr. Ryan Fisher is the Landscape Conservation Specialist at Saskatchewan Ministry of Environment, Fish, Wildlife and Lands branch. Ryan is a new adjunct faculty member at the University of Regina and is interested in many wildlife and landscape management issues in the province of Saskatchewan. Much of Ryan's previous work has focused on management of grassland species-at-risk in the prairie provinces.
ryan.fisher(at)gov.sk.ca
Website:
https://www.uregina.ca/science/biology/people/associate-adjunct/fisher-ryan.html
Image
: Ryan holds a dark morph Ferruginous Hawk that is now sporting a satellite transmitter to track its movements during migration.
---
Current Students and Post-docs

Carly Graham - ph.d. student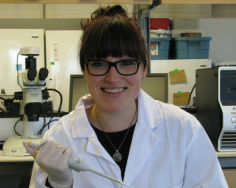 Carly's Ph.D. work examines the population structure and genetic diversity of lake whitefish. She is using a combination of microsatellite markers and genomic tools (SNPs) for this purpose. Her research will provide critical insights into potential local adaptation of fish at particular spawning aggregations, and a comparison of neutral DNA loci vs other parts of the genome. As part of this program, Carly is working on becoming an expert at next-generation DNA sequencing using an Illumina platform. Carly's work is part of a large collaborative program involving partners at McMaster University, the University of Guelph, and industrial partner Bruce Power Inc..
cgraham13(at)hotmail.com
Image: Carly prepares fish DNA samples for genotyping in the lab at the University of Regina.
---
Pierre cockx - ph.d. student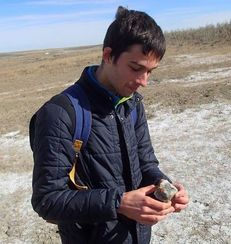 Pierre's research involves the study of amber associated with vertebrate bone beds in Western Canada. It consists of a full taxonomic treatment of inclusions trapped within the amber, and analyzing the amber with range of techniques (such as stable isotope studies, FTIR spectroscopy, and imaging techniques). The goals are to reconstruct ancient palaeoecology and palaeoenvironments. Pierre is co-supervised by Dr. Ryan McKellar at the Royal Saskatchewan Museum
https://royalsaskmuseum.ca/rsm/research/palaeontology/ryan-mckellar.
Image
: Pierre searches for amber in southern Saskatchewan.
pierre.cockx(at)laposte.net
---
BRandon Burda - m.sc. student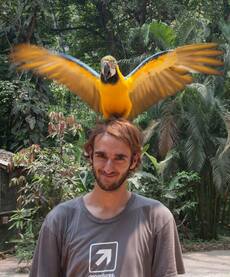 Brandon's research is on Saskatchewan's provincial bird - the sharp-tailed grouse. He is using a combination of current lek surveys and historical data archived by the Ministry of the Environment to better understand grouse habitat selection. Ultimately we hope to understand what makes leks persistent vs. extirpated, and how to better plan for management and conservation of this important bird species. Brandon is co-supervised by Dr. Ryan Fisher, Saskatchewan Ministry of Environment.

Image: Brandon has a way with birds!

brandonburda@gmail.com



---