Research Staff and collaborators

I have many collaborators that share a passion for biology. Collaboration can be something as simple as sharing samples or ideas, to as intricate as conducting data collection and supervising project activities and students together.

Collaborator - Ray Poulin


Dr. Ray Poulin is the Manager of Research & Collections at the Royal Saskatchewan Museum, and a key collaborator on several major portions of my research program. Ray is a conservation biologist and ecologist who co-supervises many graduate students with me.

http://www.royalsaskmuseum.ca/research-collections/biology/vertebrate-zoology-ray-poulin

Image: Ray stalks snake photo opportunities in Grasslands National Park, Saskatchewan.


---

research technician - rebecca eberts


Becca recently completed her M.Sc. on spatial patterns in the niche and resource use of lake whitefish in Lake Huron. Her interests are strongly rooted in the biology of fish, with an emphasis on management and conservation. She is currently working on a variety of lab and field projects in this area.

becca.eberts(at)gmail.com


http://www.rebeccaeberts.ca/

Image: Becca holds a large walleye prior to live release. This fish was captured in a tournament on Tobin Lake, and has been outfitted with an acoustic transmitter so we can follow its movements after catch and release.

---
Current Students and Post-docs

Carly Graham - ph.d. student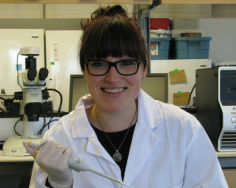 Carly's Ph.D. work examines the population structure and genetic diversity of lake whitefish. She is using a combination of microsatellite markers and genomic tools (SNPs) for this purpose. Her research will provide critical insights into potential local adaptation of fish at particular spawning aggregations, and a comparison of neutral DNA loci vs other parts of the genome. As part of this program, Carly is working on becoming an expert at next-generation DNA sequencing using an Illumina platform. Carly's work is part of a large collaborative program involving partners at McMaster University, the University of Guelph, and industrial partner Bruce Power Inc..
cgraham13(at)hotmail.com
Image: Carly prepares fish DNA samples for genotyping in the lab at the University of Regina.
---
Kelsey marchand - m.sc. student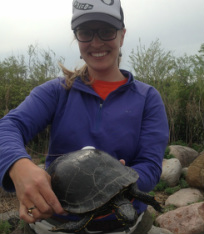 Kelsey is an animal ecologist with a keen interest in the biology of turtles. Her M.Sc. thesis research is on movements and resource selection by western painted turtles near the northern limit of their range in central Canada. This research was developed via a special partnership between the University of Regina, The Royal Saskatchewan Museum, The Friends of Wascana Marsh, and the Wascana Centre Authority. Kelsey is co-supervised by Dr. Ray Poulin (http://www.royalsaskmuseum.ca/research-collections/our-staff/ray).

Image: Kelsey displays Olga, captured in Wascana Lake, Regina, and possibly the largest western painted turtle ever recorded in Canada.

---