Fish tagging programs at the u of r













My group is doing two types of fish tagging in Saskatchewan:

(1) Passive tags - these are t-bar or Floy tags that provide fish with a unique identification number (see pike photos). These tags enable long-term data collection on recapture rates and locations.

(2) Active tags - these are transmitters that are attached to the fish and broadcast information (see walleye photo above). At minimum the tags transmit a signal that enables us to find the fish, but they can also measure activity levels, water temperature, fish depth, etc.


---

Why are we tagging fish?


The types of tags we use are fundamental research tools to help address key questions in the management and conservation of fish. For example, passive tags allow us to address questions such as: how many times is a fish caught and released during a particular period? Active tags provide exciting insights into fish behavior. They enable answering questions about topics like: what do your fish do after they swim off? Ultimately we want to help understand how fish respond to being caught as part of our sport fisheries in Saskatchewan.


What if i catch a tagged fish?


Please report it! The data about recapture are critically important to the success of this program. Anglers have a chance to really contribute to fisheries science. The important information to record is: (1) tag color and ID#; (2) location and date of capture; (3) fish condition.

chris.somers(at)uregina.ca
Facebook page: https://www.facebook.com/SaskSportfishResearch/

Fish tracking with active transmitters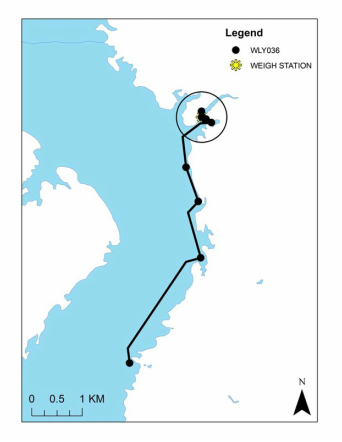 We use acoustic tags like the one in the photo above to track the movements of walleye and sauger after catch and release tournaments. Acoustic tags emit sonar pulses that travel well through freshwater, enabling us to follow the signal to the position of the fish. So far we have focused on the 7 days after catch and release, which is when acute effects of stress usually show up. The tracking data enable us to examine movement patterns like the one shown here (left), and try to relate them to how fish were treated before release. To date our work is showing that fish movements are highly variable, ranging from only a few hundred meters to more than 30 km.

Image (left): sample tracking data for a 5.5 lb walleye released from the Riverhurst Walleye Classic on Lake Diefenbaker in June of 2015. The black circles represent the location of the fish on each of the 7 days of tracking after release. The fish spent 3 days recovering in the release area, then moved a total of 6.5 km over 4 days. Near shore movements like this appear typical for most walleye we have tracked.

Images (below): examples of much longer post-release movements by walleye in Last Mountain and Tobin Lakes. In these images the capture location is indicated with a yellow square, and the location of the weigh station (and release point) is a yellow star. From left to right: Last Mountain Lake, 7.2 lb walleye, 30.9 km; Last Mountain Lake, 3.4 lb walleye, 16.5 km; Tobin Lake, 2.5 lb walleye, 24.5 km.

---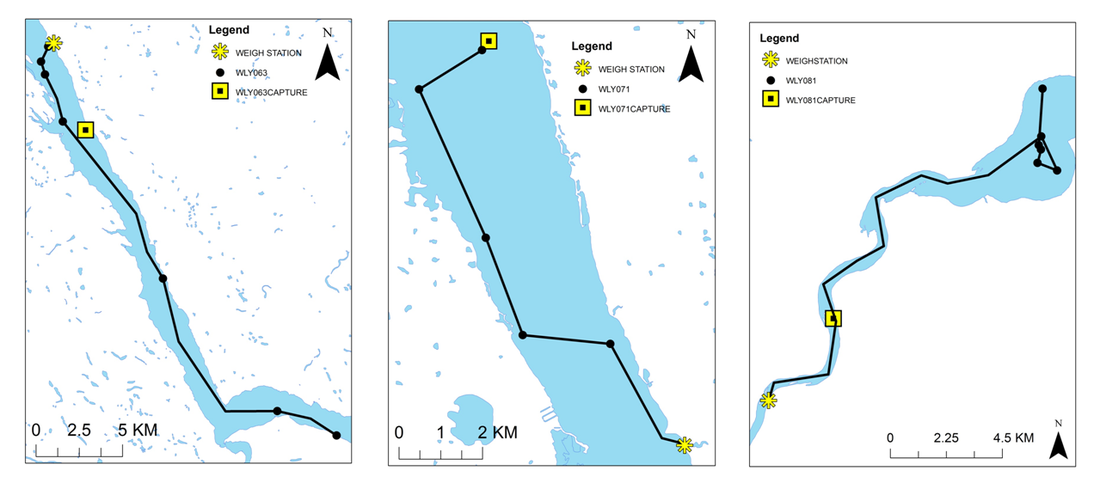 Fish Tracking with Remote receiver arrays

In 2017 we began tracking fish with acoustic receivers that are moored in Buffalo Pound Lake (Fig. 1). These receivers listen for signals from fish 24 hours a day, 7 days a week, providing much more detailed information than researchers can gather using manual tracking. We are currently tracking fish of 4 species in Buffalo Pound using this array: (1) walleye, (2) pike, (3) burbot, and (4) common carp. Our objective is to understand how these species make use of the lake over the open-water season. At the end of the study we will know more about fish use of this important recreational lake than ever before.

| | |
| --- | --- |
| Figure 1. Schematic of acoustic receiver deployment. The receiver is attached to an anchor line held at the surface by a buoy. The receiver continuously scans the local area for signals emitted by tagged fish. When a tagged fish swims within range, the receiver will upload and store the information about that animal. Anglers should avoid boating and fishing near surface buoys if possible to avoid disturbing sensitive equipment. If you see loose equipment or any other problems please contact me. | |
images from field work
partnerships
This research is currently funded by the University of Regina, the Saskatchewan Ministry of Environment's Fish & Wildlife Development Fund, the Canada Foundation for Innovation, and through sponsorships from angler groups. The Saskatchewan Wildlife Federation, Regina Fish & Game League, and Saskatchewan Walleye Trail have been key sponsors. The research would not be possible without the partnership of tournament organizers, and of course the anglers!

Can i help?


Do you want to sponsor fish tags? Or perhaps volunteer to help with fish tracking? Please contact me to discuss possibilities (chris.somers@uregina.ca). We are always looking for great partnerships and research opportunities. Please don't hesitate to contact me if you would like more information on our current work, or if you have ideas for future projects.